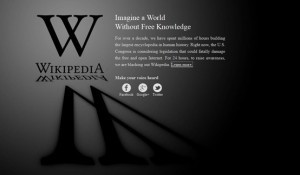 Wikipedia is one of several websites to shut down its services in protest over an anti-piracy bill that could affect the World Wide Web.  Instead of the usual information pages that Wikipedia serve, visitors to the popular site are now greeted with an ominous black screen and the following:
Imagine a World without Free Knowledge
"For over a decade, we have spent millions of hours building the largest encyclopaedia in human history.  Right now, the U.S. Congress is considering legislation that could fatally damage the free and open Internet.  For 24 hours, to raise awareness, we are blacking out Wikipedia" and a page explaining why Wikipedians have chosen to protest SOPA with a blackout.
The 24 hour closure of Wikipedia began at midnight of 18th January 2012. Google also followed suit by blacking out its logo with the message:
"Tell Congress: Please don't censor the web!"
The two bills in question before congress are 'Stop Online Piracy Act (SOPA)' and 'Protect IP Act (PIPA)'.  Both bills are supported by CNN (Time Warner Inc.) and other mainstream businesses who include, the Motion Picture Association of America, Sony, Timberland, and Juicy Couture, to name a few.
If the Bills pass in congress it would enable copyright holders to lodge complaints against website owners and have them shut down.  It would also mean that sites and Internet providers could be punished for hosting pirated content and held liable for an individual's actions.
In a statement, Google expressed that the impact of such legislation would be far-reaching.  "YouTube would go dark immediately," said Google
public policy director Bob Boorstein  at a conference last month. "It couldn't function", he added.
Whilst companies such as Google and Facebook support the bills' main goals, they do not support how it would affect law-abiding citizens and companies to new and uncertain liabilities that would almost certainly require monitoring and censoring websites.
Many in the blogosphere and various groups are protesting the merits of the bill and with this action much attention and protest could water the down, or kill-off this intended anti-piracy bill altogether.
Companies Against the SOPA and PIPA Bills
A few notable companies that are supporting the protest against PIPA and SOPA are:
Google – "Please don't censor the web"
Facebook – "Facebook opposes SOPA and PIPA, and we will continue to oppose any laws that will hurt the Internet,"  (Mark Zuckerberg)
Wikipedia – "Imagine a World without Free Knowledge"
WordPress – "Stop Censorship"
Mozilla – "We Believe in an Open Web. And we're dedicated to keeping it free, open and accessible to all"
Reddit – "Stopped they must be; on this all depends."
There are many more companies not supporting SOPA and PIPA with some going public. A large number of the protesting sites requested readers to take action at the Stop American Censorship website.
https://sonet.digital/wp-content/uploads/2012/01/Wikipedia-SOPA-Protest.jpg
323
555
Vincent
https://sonet.digital/wp-content/uploads/2015/04/sonet_340.gif
Vincent
2012-01-18 14:41:50
2015-06-01 15:40:21
Wikipedia & Google Blackout Protest over SOPA