It won't come as a surprise to others in the web development and online marketing community that we receive between 5 and 20 phone calls, and approximately the same amount of emails per week with requests for us to outsource our work abroad.
Several years ago, in 2001 (that's eons in Internet years), I briefly worked for a large digital agency (at that time web agencies with 20 or more staff were called LARGE) as the project manager of their newly developed 'SEO Team' – those were the early 'grey' days of SEO.   As far as digital agencies (new media firms) go, they were quite forward thinking and had pulled down several office walls to create a large workspace where the various teams could interact with each-other.
These included:
Online Marketing (SEO)
Web Development
Web Design
Corporate Brand
Sales
It was a great idea and one that we employed a littler later on, further down the line.  It meant that each of the team members knew what the others were doing and were able to work in a more seamless fashion.  Intercommunication is the key to successful development!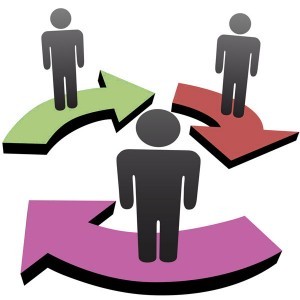 It was at this time that the first phone calls for outsourcing started coming in.  It was quite a new concept for us all, and as our boss Alan pointed out at the time, "It opened up possibilities".  Don't forget, technology was a whole different thing back in 2001.  There were few effective automation applications that allowed for large amounts of code to be written.   It was an expensive affair for the agency, and the client.  I remember one project in particular, an extensive online music project that took in equal measure, copious hours to build, at great expense to the client.  However, sending the work abroad appeared to be even more expensive and didn't save at all.  The agency outsourced to what was deemed one of the more successful contracting firms at the time but this proved to be an absolute disaster.
Contractor Communication Breakdown
First came the breakdown in communication(s), literally.  Having gotten used to working in this open atmosphere in the 'new digital age', we now found ourselves struggling since we could not communicate effectively with the contracting team and the client.  The language barrier became a great hindrance to some of the techies on our team – not that 'their' (Contract) team could not speak English, for they were competent.  It was more a matter of technical jargon used!  This was followed by important emails being lost, and/or not arriving to the contracting team.   After numerous hours of phone calls and several visits out to the country to solve the issues that were now piling up, it was decided that we'd hire a 'Red project manager' to bring the project under control.  This of course proved quite costly and ultimately the project ended up coming back to the UK.
I am sure that many agencies have nightmare stories, – I have heard a few – from websites being plagiarized, to blocks of code being delivered to competitors.  At the same flip of the coin there are also many success stories.   I know we have worked in the past with an agency in India and one in Romania who both delivered affordable fantastic results on time.
Should new media agencies be outsourcing now?
We have all felt the pinch of the current economic climate. There has even been argument from some that this is the perfect time to outsource to keep the cost of builds down.  The majority of firms and web developers we have spoken to all agree that this is not the time to outsource but to keep it within country (insourcing) and start throwing more support behind our economy, also passing some of the newer insourcing firms the work.
This morning – this is what prompted my blog post – we received a phone call from a 'gentleman' who claimed he represented one of the most successful outsourcing SEO agencies in ……… and that he would like to form a partnership.   He seemed a pleasant chap and was most polite until I explained that currently all our work is being done in-house and if it arises that we require extra hands then it will be insourced within country.  The response from the other end of the phone was that of great annoyance (probably frustration) and then he hung up the phone.  Go figure!!!
https://sonet.digital/wp-content/uploads/2012/02/Insourcing.jpg
600
600
Vincent
https://sonet.digital/wp-content/uploads/2015/04/sonet_340.gif
Vincent
2012-02-15 18:03:29
2015-06-01 15:46:31
The SEO, Web Development Outsource-Insource Conundrum