The Google Disavow Links Tool was introduced in October 2012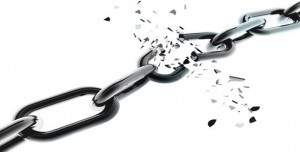 with a view to helping website owners who've been penalised because of black hat SEO tactics. Google's goal with all the changes it makes to its algorithms and systems is to create a better quality internet, and the Disavow Tool is no exception.
What's it for?
If your website has suffered at the hands of unethical SEO backlinking tricks, the Disavow Tool can be used to clean up those spammy backlinks, eventually resulting in the removal of your penalisation and seeing you sailing back up the rankings.
Essentially, the Disavow Tool allows you to tell Google which backlinks to your website you'd like them to ignore. If you've been conned by a black hat SEO technician (or you've done it yourself, tsk tsk) who's shimmied your site up the Google rankings with methods that have led to penalisation, the tool can help you get back on your feet.
It can be used to remove backlinks from all kinds of spam – blog spam, comment spam, tinned spam (no, wait…) – and from low quality articles that have been spun so much as to be unrecognisable, and from any other unsavoury links to your website.
How does the Disavow Tool work?
To use the Disavow Tool, you have to be logged in as an 'Owner' in your Google Webmaster Tools, where you can then enter the URL to the Disavow Links page. Once you're in, you can upload a text file of individual pages or entire sites you'd like to disavow links from.
It's important to note that the tool is designed with power users who feel comfortable with the technology in mind. If you're an average user that hasn't used (or been hit by) aggressive SEO tactics, you shouldn't need to use it.
Once Google has your list, it will use it as a 'strong suggestion' for links to ignore, but it isn't guaranteed. (This is to prevent its misuse by unsuspecting people who've decided to dabble with the tool without really knowing what they're doing.)
How effective is it?
You should approach the Disavow Tool with caution, because if used incorrectly it can have devastating consequences on your Google page rank. A lot of backlinks – even tiny little ones from unknown sites – can boost your rankings slightly, and by deciding that these little links are bad for your ranking and smacking them down with the Disavow Tool, you could end up lowering your ranking by disavowing links that were actually working in your favour.
If you've yet to be penalised, you'd be better off trying to remove bad links manually. If your site hasn't been penalised, it's going to look a bit suspect to the good folks of Google if you ask them to disavow a bunch of links.
On the other hand, if your site ranking has already suffered at the hands of bad links, Disavow could be your saviour. It can take several weeks to notice any significant changes in your ranking after using the Disavow Tool, because Google has to recrawl and reindex all of the pages, but many have reported success in boosting their rankings after use.
https://sonet.digital/wp-content/uploads/2015/04/disavow-links-tool.jpg
281
555
Deana
https://sonet.digital/wp-content/uploads/2015/04/sonet_340.gif
Deana
2013-02-03 16:09:31
2015-06-01 16:55:22
A Brief Guide to the Google Disavow Links Tool