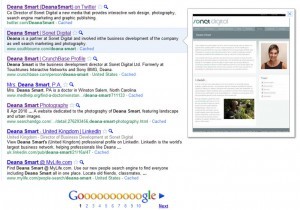 In November 2010, Google introduced a fresh feature distinct from the previously announced 'Google Instant'. This new addition, named 'Instant Previews', caught the attention of many. Unlike the traditional search results, this feature provides users with a snapshot of a website's content directly from the search results page.
How Does Instant Preview Work?
When users input a keyword or phrase into Google's search box, the results will display as usual. However, with Instant Previews, there's an added magnifying glass icon next to each result. Clicking on this icon reveals a snapshot of the corresponding website. This visual representation allows users to gauge the website's content and design before deciding to visit the site. If the snapshot appeals to the user, they can click on it to access the full website. Alternatively, they can simply move their cursor to view the next result's preview.
Highlighting key information
A standout feature of Instant Previews is its ability to highlight the searched keyword or phrase within the snapshot. If the keyword appears on the previewed page, it will be enclosed in an orange box, immediately drawing the user's attention. This design choice streamlines the search process, ensuring users can quickly locate the information they're seeking.
Concerns with Google Analytics
However, the introduction of Instant Previews raised concerns among webmasters, particularly regarding its impact on Google Analytics data. Some noticed skewed statistics on their sites, which Google confirmed. The issue arose because the real-time fetches executed by Instant Previews were also triggering JavaScript used by Google Analytics. As a result, traffic numbers were distorted. Google acknowledged the problem and assured users that they were working on a solution. In the interim, they provided guidance for webmasters on how to configure their sites to address this issue.
Pros and cons of Instant Previews
Instant Previews offers a mixed bag of benefits and drawbacks. From a user's perspective, it's a time-saving tool, allowing for a quick visual assessment of search results. This visual scan can help users identify sites that are immediately appealing. However, some users find the feature distracting, especially when they prefer viewing results in a traditional text format.
Google's Instant Previews is an innovative feature that aims to enhance the user's search experience by offering a visual glimpse of websites directly from the search results page. While it offers several benefits, it's essential to be aware of its potential impact on analytics data, so take a look yourself and see how you feel about this new Google experience.
https://sonet.digital/wp-content/uploads/2010/11/google-instant-preview.jpg
559
800
Deana
https://sonet.digital/wp-content/uploads/2015/04/sonet_340.gif
Deana
2010-11-26 21:28:31
2023-08-31 17:43:46
Instant Gratification - Google Previews