No Ladies and Gentlemen, do not adjust your computer monitor, it's a fact, this is not the re-release of the 'Google Instant' feature announced by Google back in September but a brand spanking new feature from the Google Instant barn!
At the beginning of November Google once again managed to bring attention to their ever-growing empire by announcing the roll-out of their 'Instant Previews' feature.   Basically the feature allows one to view an actual snapshot of a website listed in the search results for the keyphrase one entered into the search box.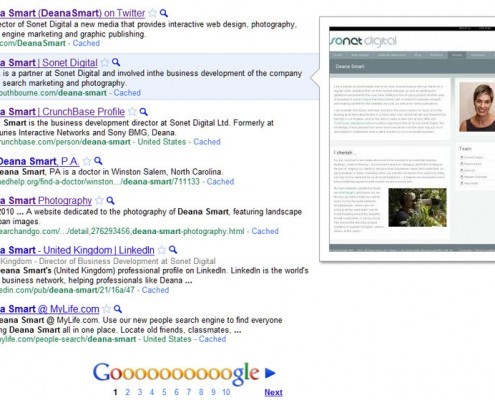 With just one click to the magnifying glass icon beside any search result on the page, one can view a shot of that company's website.  That first impression of a site could be the make or break decision on whether a potential customer, or viewer will wish to delve deeper into what that site is offering, or whether they move on to the next search result.  However, if you like the look of the site then you just click on the snapshot and the full site will open, or to view another search result then just move your mouse down to the next item on the list.  To me, this new Google feature would certainly make me think about the great importance of presenting an aesthetically pleasing website design, since we are more often drawn to a thing of beauty than to the bland and uninteresting.
Within the Instant Previews feature, when the keyphrase or search term is present on the result snapshot thumbnail, the text will be highlighted in an orange box, immediately drawing the viewers' eye to the information they were in search of.  Definitely a time-saving feature as so often one searches an entire page to find what they were looking for.
Google Analytics Traffic Skewed
There has been much concern and chatter on Google's help forum from Webmaster stating that 'Instant Previews' is skewing stats on sites utilising Google Analytics. This has in fact been confirmed by the company who explain that 'real-time fetches are executing JavaScript used by Google Analytics, and this is skewing traffic numbers'.  To clarify, an employee of the company states that 'these page views are currently only counted when we render the preview image on-demand (when a user chooses to view it and when we don't have one cached already)'.  The company do however state that a solution is in the works.  In the meantime, Google say that Webmasters are able to configure their sites to handle this user agent in the same way that they would do for crawls by Googlebot.
There are pros and cons to the new 'Instant Previews' feature depending on one's point of view.  From a searchers standpoint, it certainly is a time-saver and enables one to skim through a page of search results quickly viewing the snapshots to find something that immediately appeals to the eye.  Though I also have to agree at times is it most distracting when I only wish to view the results in text format.  One has the option of using Instant Previews, Google Instant, or the standard Google Search, so take a look yourself and see how you feel about this new Google experience.
https://sonet.digital/wp-content/uploads/2010/11/google-instant-preview.jpg
559
800
Deana
https://sonet.digital/wp-content/uploads/2015/04/sonet_340.gif
Deana
2010-11-26 21:28:31
2015-05-25 11:30:55
Instant Gratification - Google Previews