As part of our overall SEO package, Sonet Digital provide monthly data reports to our clients to not only advise how their website is performing but also to distinguish problem areas/pages that may need a little fine tuning to enable better rankings in the search engines.  However, not all clients are as well-versed, or as comfortable at deciphering these analytics reports as our data experts. Though the data may seem straightforward to us, sometimes the terminology and layout can be rather like reading something written in a foreign language.  For this reason, we have created a brief explanation to demystify various aspects of Google Analytics reporting, starting here with the Audience Overview report.
Audience Overview for beginners
As one would assume, the audience overview report is exactly that, an overview of the absolute basic performance data a website owner will find of interest.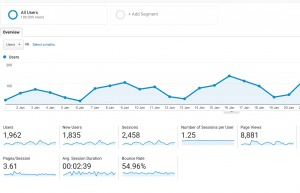 As you can see above, within this report we have 8 key indicators, these indicators appear in almost all reports so once you understand these you'll be able to grasp what is being displayed in each report.
Users:
Users refer to a single visit by an individual. If that individual leaves the site and returns within 30 minutes, this is still seen as 1 visit.
New Users:
A new user is one who is visiting your site for the first time (during a specific period).  To cross-reference this you could take a look at the New vs Returning Visitors report.
Sessions:
A session is the number of visits overall during a specific period. This includes multiple visits by the same visitor (on the same device).  If a user leaves the site and returns after 30 minutes this is seen as an additional session, but not as an additional user. You can find out more here about how a session is defined on Google
Number of sessions per user:
This refers to the average number of sessions per user.
Page Views:
Page views refer to the total number of pages viewed overall for all visits, including multiple visits to the page by the same visitor.
Pages/Sessions:
Pages per session refer to the average number of pages each visitor views per session, this includes repeat visits to a page.
Avg Session Duration:
Average session duration refers to the average time a visitor spent on the site during each session. However, since it is simply an 'average' it can be confusing to some website owners, as some visitors will be on a site for minutes, whilst others may stay for only 30 seconds.  Don't confuse this with actual session duration which can be found by digging deeper into behaviour reports.
Bounce Rate:
Ahh, the dreaded 'bounce rate' in which refers to a visitor who visits only 1 page on your website and then leaves without viewing another page.  This is not necessarily a bad thing, depending on what type of site you have. If it is, for example, a 1-page site, then it would be completely normal to have a high bounce rate. However, if you have a website of many pages and all show a high bounce rate then clearly there are issues that need to be addressed.  All websites will have some percentage of bounce rate.
Overview Breakdown:
So to breakdown the above audience overview report:
Of the 2,458 sessions that occurred in January 2019, 1962 were individual users, and 1835 of these were first-time visitors to the website.  On average visitors remained on the site for 2 mins 39 seconds, viewing 3.61 pages per session, with a bounce rate of 54% and total page views of 8,881!
From this report, we would take a closer look at the bounce rate to find out exactly where the bounces are occurring and then take steps to reduce this parameter.
Next week I'll demystify All Traffic Reports
https://sonet.digital/wp-content/uploads/2019/02/ga-audience-overview.png
1242
1931
Deana
https://sonet.digital/wp-content/uploads/2015/04/sonet_340.gif
Deana
2019-02-26 17:01:35
2019-02-26 17:05:32
Google Analytics Audience Overview Report Explained