Catching up on some industry reading last week I came across several mentions of a patent that had recently been granted to Google Inc.   It describes how the search engine might work to understand the segments of a webpage.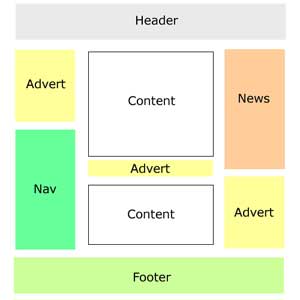 For many years now search engines have been analysing the structure of a page and how they may weight up the page, and score it.
A web page is typically designed and developed with a:
Header
Footer
Main Navigation
Main Content
Footer
Images
Google will view the HTML of a web page and then simulate that page in a browser in order to understand the different segments of a website page.  Links that are found in different areas of a web page may be assigned a different score or weighting. This effectively puts the links on a page into an order of importance, with the most important areas in the main content and the top of the page.  The footer that includes legal, copyright etc. is weighted at a lower score.
Of course, text is probably the largest factor in ranking a website, and this same weighing up process is used for the website content as well, so that the search engine understands what the site is about.  The location of keyphrases will play an important factor here (it always has done).  A keyword that is within the title or main content will be deemed more important than a keyword that is in the footer, or in the sidebar area.
It surprises me how often I see images on a webpage that don't carry some form of ALT text.  This is not only important from an accessibility guidelines point of view, but in order to rank an image in a search engine such as Google, then ALT Text and description of the image would be important.   In the patent, it describes how Google would look at text close to an image, identify the image and create a caption for it which subsequently may be used in image search.
Contrary to some industry colleagues' opinions, Google does not use the META description tag to determine what the webpage will rank for.  This is not to say that it is not important, IT IS.   The META description is the snippet that will be displayed in the search engine results under the title. A good snippet will encourage visitors to click on the link to your page.  In the Google Patent 7913163 it states that the snippet is based on the content in the web page section that is most relevant to the keyword that is being searched for.  Again, that is not to say it won't use your own META description but will only do so if it is relevant to that particular search.
In conclusion, the importance of website construction and how the elements are laid out and segmented should be a key area of focus in an SEO campaign.
https://sonet.digital/wp-content/uploads/2011/03/Blockrank.jpg
300
300
Vincent
https://sonet.digital/wp-content/uploads/2015/04/sonet_340.gif
Vincent
2011-03-30 13:23:33
2017-10-07 16:19:16
SEO Analysis – Segments of a Webpage