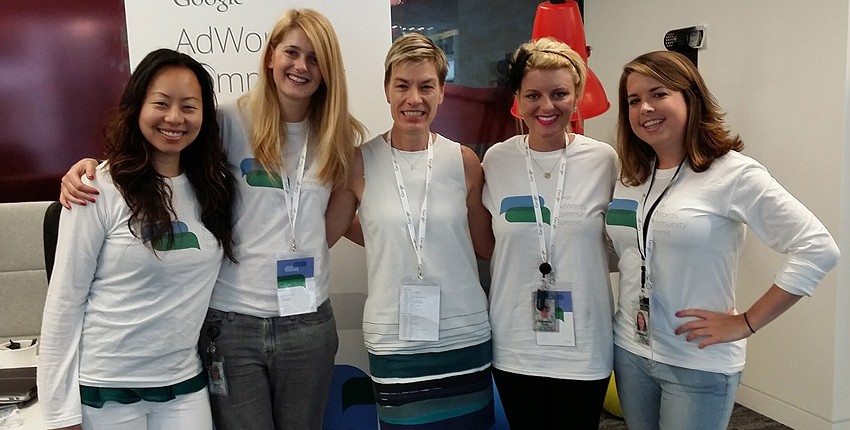 Day 1 June 19th
When Sonet Digital were invited to attend the Adwords Community Summit 2014 at Google HQ in London last week it was decided that Deana would attend on behalf of the company since (and according to Deana) "There is much intrigue and adventure to be had in the hallowed hallways of the search engine giant who has accomplished so much in a relatively short span of time."  This is a review by Deana, our Adwords Specialist's Google Adventure.
Heading Up To The Smoke
With an 8:00am start on Thursday, June 19 I boarded the 6:30am train and headed for London Victoria, just a short walk from the Google Offices. With mixed feelings of excitement and nervousness (anyone would think I was presenting a keynote speech!), I entered the building and headed towards a smiling young 'Googler' who I now know as Nadia Lee. Immediately making me feel welcome, Nadia directs me to the first floor where I can check in.
Google HQ London
The offices (what I can see of them) are modern, sparsely decorated (in a good way) and of course exceptionally functional.  Another 3 young 'Googlers' from the Adwords team (Coco Pannell, Kathleen Garrity and Agata Krzysztofik) are there to greet me, welcome me and provide me with my credentials for the Summit.  I'm then invited to help myself to breakfast – a selection of croissants, pastries, tea, coffee and water) that are in the meeting room – fresh and yummy!
Slowly other members of the Adwords Community arrive for the 9:00am Summit Introduction, some clearly know each-other, whilst others like myself are feeling a little timid and not yet ready for first time introductions so early in the morning!
Summit Intro
The lovely Coco makes the Summit Introduction laying out the schedule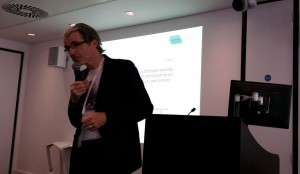 for the day and what we can expect.  She's a bubbly, petite little thing and self-confessed 'southern belle with an ivy league flair' – and I have to say I agree with that description entirely!  She takes control of the assembled Google Adwords Community and manages the entire event without a hitch!  She's clearly a great asset to the Google Team.
Fastest Growing Advertising Market in Western Europe
Gareth Morgan, Director of European Advertiser Services follows with his keyword address where he discusses everything from Google's desire for transparency, to offering Google advertisers the best possible advertising experience. Stating that the UK is the fastest growing advertising market in Western Europe and forecast to grow to a massive £13.7bn in 2014 – (This is predominantly digital driven as you'll no doubt agree when you hear that 80% of people now don't leave home without some form of digital device)?  Gareth states that now 40% of visitors purchase online following their online research, whilst there's still 28% who purchase offline.   So, it makes total sense that Google want to do all they can to create a better working relationship with, and experience for those providing them with the clients to accomplish that goal!
Google My Business
Gareth also touches on the launch (last week) of what Google see as the biggest SMB (global) launch ever, that of My Google Business.  Google are seeing ads as an extremely powerful tool to help connect people with information, content and places they are searching for in the moment!  They therefore want to make businesses more visible online, so they've combined Google Places with Google + and provided a dashboard for businesses to understand the power of digital apps online – and amazingly it's free! It means no matter what size your business, with minimal hassle and set-up, you'll have your site showing up online, will be able to share images, documents, your contact details and so much more. It's a service that we are now helping businesses in Kent embrace through our Local SEO program.
Google Customer Service and Transparency
Not always something we'd associate with Google – transparency! Gareth admits that in the past Google haven't been so customer friendly, e.g. at one time customers weren't able to contact customer service via telephone – seems ridiculous, doesn't it, but so it was!  However, they have seen the light and now offer such access, adding that by the end of the year there will be 24/7 telephone access in English, as well as the current email and chat access to support.  There's also now a one-to-one Video Support available via Google Hangout.  It seems that those who have used the service are raving about it, and with some of Google's tools being so complex, it's definitely something that we'd utilise in the future.
A good presentation highlighting Google's desire for further transparency, a wider reach and the ability to communicate more easily with the Google community, whether you're a business, individual, or an advertiser.
Next Up is John Mueller, Webmaster Trends Analyst
with 5 Key Trends for Google Search – here John covers a range of subject matter including:
Mobile Friendly Sites
Fix broken links/redirects. Make sure your videos are playable? Does your contact/order form work on mobile? We've all experienced it haven't we, a fine looking website but try to fill out a form and it all goes horribly wrong.  John says to keep it simple – mobile users aren't interested in the long-winded approach, they're looking for usefulness, speed and simplicity!And something new – You'll now be able to index Mobile Apps for smartphones!
Security
Watch out for Malware – don't click on it if you're unsure!
For heightened security always use HTTPS, and with whole sites use HSTS
Internationalization
It makes sense to have localised content, so use: rel=alternate hreflang="x" annotations. This tells Google which site and content is relevant for which location/country.  So, make sure you have separate URL's for different countries and use URL canonicalization.  Also, don't be afraid to duplicate content, Google will know that you are serving content for the specific country/location and thus won't penalise you.
Structured Data
By marking up your website, Google understands content on the page, not just the words. 'A good website is more than just text'!  Helps you to drive more targeted traffic to your website.   Review stars – must include a text review not just the stars!
Cleaning up Spam – Clean up your website. Disavow bad links even if you don't have a manual penalty. Ask for help in forums, be thorough, and when submitting reconsideration requests be honest, explain what you did, admit error and confirm that you won't do it again!
I have to admit that John's presentation certainly left me with a better understanding of mobile site requirements, how to handle international sites (Something that Sonet Digital already does), and a clarification regarding spam, disavow and reconsideration requests!
Dynamic Remarketing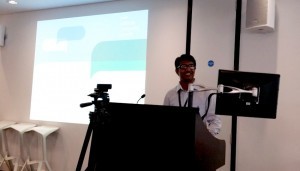 It was interesting to hear Si Chand's in-depth review of Dynamic Remarketing.  I was surprised to hear that 96% of visitors leave a site without converting, and 70% of visitors abandon a shopping cart whilst 49% of visitors make comparisons on other websites prior to purchasing! That therefore gives one a massive audience to remarket to!
Sai says that Google are currently working on Dynamic Remarketing for non-retail products!  We at Sonet Digital eagerly await the outcome!
Be the Best PPC You Can Be
Of great interest to me was Jack Porter-Smith's 'Be the Best PPC You Can Be' Presentation. Since Jack is one of the Community Top Contributors, he'd clearly have much to say, and I wasn't wrong.   A humble chap, Jack clearly see's that working with others, sharing ideas and having a mentor are all key to becoming the best you can be within the PPC arena.  Participating in forums, attending PPC / SEO conferences and finding relevant local groups on LinkedIn have all helped him to become a true PPC guru and managing director at WSI Paid Search. Jack says,
'with regard to ads, don't think just about traffic, think about conversions'… that's what customers really want at the end of the day – a lead, download, quote request, or sale!
Don't jump on the next shiny thing (Adwords product enhancement/upgrade)… wait until you've had a chance to review and research whatever the next new Adwords enhancement might be before you start spending your clients money with inadequate understanding of the process!
Don't whatever you do 'panic optimise'!  Wait, calm down and then re-address the issue! (definitely one to remember).
Mistakes – we all make them, 'innovation requires trial and error'!
Jack also talks about the many tools he utilises to help him build a great PPC campaign, for analysis, and getting the job done to the best of his ability, and finally, the best bit of advice from this PPC master:
'Don't worry about what anyone thinks.  Put yourself first and your skills second!  Be honest'!
Wow, all that in just one morning! Astonishing to think we got through so much in such a short amount of time. And now it's time for lunch.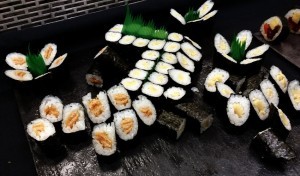 A well deserved lunch – methinks
What an amazing foodfest the Googlers receive each and every day they are at the office.  I've never seen anything quite like it.  Food from around the world, fresh sushi, salad bar, fruits and veggies, Italian cuisine, freshly sliced Parma ham and huge hunks of Parmesan cheese… it's truly a foodie wonderland!   I refrain from making a glutton of myself and select some freshly made Sushi, a little salad and a soda.  It's delicious.   An open plan cafeteria, modern, vibrant, full of energy all adorned with flags of the world as we 'endure' the FIFA World Cup.
Discussing Shopping Campaigns
Returning to the Summit the afternoon is begins with Shopping Campaigns presentation by Tom Taylor, who would appear to be the youngest member of the Google team, though highly knowledgeable about his product.  Certainly, it would seem that Google like to start prepping their staff for greatness from an early age… we should look out for Tom as a future Google Exec perhaps?
We wrap up the work portion of the day with one final task, the article game where we team up into groups of 3 and review an article in the Adwords Help Centre.
Time for some fun – The Google Scavenger Hunt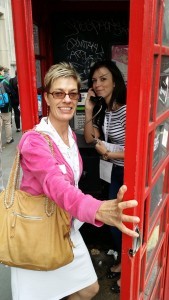 Then it's time to switch off from all the Googledom and head out for the Around London Scavenger Hunt!  We are put into teams and given approximately 3 hours to complete the Google Adwords themed scavenger hunt.  My teamsters are Melanie Burgess and Jon Gritton. We start off at a rapid pace, trying to throw off the competition – ha! Marching past many tourist attractions that include Buckingham Palace, St. James' Park, Big Ben and everything in between.  We photograph the answers to our questions and I for one have to say I enjoy this mini-sightseeing tour of our great capital.  Our final destination is Trafalgar Square where a huge blue cockerel presides over affairs!  Here we congregate with our fellow Summit attendees, calculate the final scores, identify the winners and the prize giving is completed.
R'n'R at B-Bar
Having worked up quite an appetite it's off to B-Bar where Google have arranged dinner and drinks. As we arrive the Google Girls, (Agata, Coco, Kathleen and Nadia) are ready to meet us again with smiles and an alcoholic beverage or two!  It's the perfect end to a busy and inspiring day – though sadly the boys end up drowning their sorrows following the appalling state of play by the England team at the World Cup!
https://sonet.digital/wp-content/uploads/2015/04/Google-Adwords-Summit-2014.jpg
521
850
Deana
https://sonet.digital/wp-content/uploads/2015/04/sonet_340.gif
Deana
2014-06-24 21:14:20
2015-08-26 08:20:11
Adwords Community Summit 2014 - Day 1