It may feel strange to start working on Christmas SEO projects in the summer – or even spring – but the sooner you get a head-start on marketing your website for Christmas, the more likely you are to appear in people's search results when they begin buying their gifts and planning their holidays.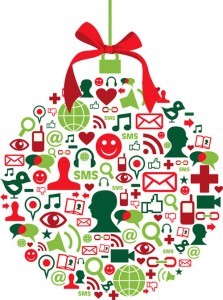 Here are a few simple tactics and tips to incorporate into your SEO strategy to boost your chances of a successful Christmas campaign:
Content Testing & Budgeting
By beginning your SEO efforts months in advance, you'll have plenty of time to test your content to make sure its achieving the desired results. If you're not getting the rankings you hoped for, you'll still have to plenty of time to tweak your approach and try again.
Budgeting is one of the trickier aspects of managing an SEO campaign, especially if you intend to hit one area heavily over a small space of time (such as Christmas in December). By spreading your marketing efforts throughout the year, designating a certain amount per month, you'll be able to afford to keep your SEO practices up all year round, and won't fall short when the time comes.
Effective Link Building
Search engine-friendly link building takes time – you can't rush it by posting poor quality, spun content to cluttered article submission sites in the hope that it will make a difference. Going this route is likely to result in penalisation from Google and other search engines, leading to the opposite of what you were hoping for: lower (or non-existent) rankings.
Instead, allow yourself time to write-up good quality content that people will actually want to read, and choose trusted places to post it to. One good quality link back to your site is worth a million bad ones. This will ensure slow, reliable link building that'll have a positive impact on your ranking.
Incorporate Social Media
Social media marketing and blogging can also boost your rankings if done properly. But again, it takes time. Posting 100 articles to your blog all in the same week, and tweeting sporadically until a week before Christmas, when you start sending out 50 tweets a day is not the right way to secure a solid search engine ranking.
Instead, utilise your blog and social media accounts consistently throughout the year: one blog post a week and one tweet every day is a steady, manageable amount to keep up with, and will start you on the long path to SEO enlightenment.
Of course, you probably won't want to start blogging about Christmas in July, but by improving the ranking of your website slowly throughout the rest of the year, Google will begin to see you as a trusted site, and so your Christmas efforts are more likely to be effective.
Merry SEO and a Happy Ranking!
It may be too late to effectively boost your rankings in time for Christmas this year, as the effects of most SEO practices take a while. But there's no reason you can't start planning ahead for Christmas next year! Figure out what you would've done differently this year and put together an appropriate action plan using the advice above, and then get to it!
https://sonet.digital/wp-content/uploads/2012/12/Christmas-SEO.jpg
673
500
Deana
https://sonet.digital/wp-content/uploads/2015/04/sonet_340.gif
Deana
2012-12-05 14:07:09
2015-09-22 09:41:51
Why You Should Start a Christmas SEO Campaign Early