Effective use of social media may not lead directly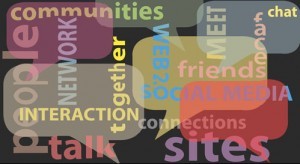 to higher search engine rankings (and really, who's to say for sure – Google is such a mysterious fiend), but that doesn't mean it's not an important player in your business's reputation.
Private profiles and locked accounts can prevent search engines from seeing the whole picture, but those aren't the only factors we should think about when considering social media as a marketing tool.
If you're going to incorporate social media into your marketing strategy, there are a couple of  important angles to consider:
Valuable Content Creation
We all know that Google loves fresh content. We also know that search engines love websites that are linked to regularly. Social media is the perfect accompaniment to valuable content creation. By creating information that people link to, Google will have more ammunition to fire you up the ranks of its results pages.
Of course, the jackpot is to produce content that goes viral. But this shouldn't be your main aim when utilising social media. Focus instead on providing regular value to your followers: fresh content means fresh links, be it in the form of retweets, likes or any other type of sharing. But don't think that getting people to share your own content is the only way to use social media.
Sharing Useful Information
The beauty of social media is that it allows people to share information incredibly easily. We've talked about the benefits of creating your own, valuable content so that others will share it – but have you considered the benefits of sharing other people's valuable content?
It may seem counter-intuitive to share other people's content on your own social networks. But – although not directly sending people to your own site – this will lead people to view you both as an expert and as an excellent resource in your field.
You will be viewed as an authority on your subject, and as someone to turn to when searching for information on your area of expertise. This will improve your reputation and, in turn, your brand.
Just remember to stick to relevant subjects – it won't benefit you, your readers or your peers if you find yourself spouting off about that excellent new fishing documentary when you're trying to promote your engineering  company.
Positioning Yourself as an Expert
Although individual social media indicators (more tweets, shares and likes of your content) may not lead to great boosts in your search engine rankings by themselves – due to the private nature of many social networks – they will almost certainly improve your ranking in the long run if used with the reader in mind.
In short, social media is an excellent way to improve your reputation by providing value to your audience – be it in the form of your own content, or by sharing someone else's – which may result in garnering you more fans and therefore more traffic.
https://sonet.digital/wp-content/uploads/2012/10/Social-Media-Reputation.jpg
273
500
Deana
https://sonet.digital/wp-content/uploads/2015/04/sonet_340.gif
Deana
2012-10-12 15:56:41
2015-06-01 16:52:25
How Social Media Indicators Can Improve Your Reputation