Facebook has announced that it is introducing 'Facebook Gifts,'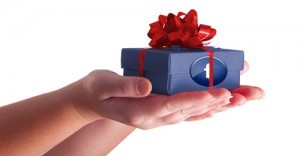 a service that allows members to select a gift and send it to their contacts or friends from Facebook's Gifts service.  This is not a new idea for Facebook, it's always been a core area that was intended for future development after it was first integrated into the social portal in February 2007. It experimented with users sending virtual gifts to their friends that would then appear on their profiles – the cost of adding a personalised message was $1.00.  This was soon followed (in May 2007) with the launch of Facebook's Marketplace, a Craigslist style classified ads.
Now that Facebook are a public company there is mounting pressure from investors to 'bring home the bacon', and yesterday (September 27th 2012) the organisation announced 'Facebook Gifts' via its newsroom.
The following is an excerpt from the Facebook news announcement:
"Choose a gift, attach a card and send. You can post your gift to your friend's timeline or send it privately. Your friend can then un-wrap a preview of the gift and it will show up on their doorstep a few days later"
What Does this Mean for Retailers?
Firstly from our point of view as digital digital marketers and ecommerce providers it's a great idea, we love it and have spent some time this morning discussing the benefits of such a service and what it would mean to our clients as well as benefitting us as a potential service to add to our current sales arsenal.  The idea would be that store owners and manufacturers would partner with Facebook to have their products listed as gift options.  At the time of writing there has been no news as to what the cost will be to add products to the Facebook gifts service.
The potential for existing ecommerce stores and traditional bricks and mortar stores to come online and reach the world's largest membership of consumers will be too much of a temptation, especially with the upcoming Christmas holidays when gifting and present buying is at its peak.  We feel that retailers will be aggressively looking to add their products to the Facebook service.
How to Use Facebook Gifts
The FB gift service will be simple and easy to use and will effectively allow a member to choose a gift for their friends or contacts from the Facebook Gifts list.  They'll be able to click a button on a friend's timeline and choose a gift, select a card, review and then send.  Furthermore, the recipient will be notified instantly via a message on their wall, or privately.  It couldn't be faster or more straight-forward.
What's For Sale?
Gifts for sale via the FB Gift service will include books, clothing, cuddly toys, cakes, and gift certificates from top brands.  If you are thinking FB could be in direct competition with Amazon with this new venture then you could be right, unless Amazon decide to monopolise this area of Facebook with their products.
Though USA FB users are already enjoying the benefits of FB gifts, there is no news as to when the gifts service will be available in the UK, though the company are currently working on the universal aspects of their new revenue stream.
https://sonet.digital/wp-content/uploads/2012/09/Facebook-Gifts-Service.jpg
260
500
Vincent
https://sonet.digital/wp-content/uploads/2015/04/sonet_340.gif
Vincent
2012-09-28 14:04:59
2015-05-25 12:44:15
Facebook Ramps up its Ecommerce Capabilities with Gifts